Spectacular 4 Day Tour from Glasgow to the Isle of Mull, Iona and Staffa
Discover the majestic Inner Hebridean Islands of Mull, Iona and Staffa on an epic four day tour from Glasgow. The Isle of Mull is a Paradise on Earth for nature and wildlife lovers, as well as a natural habitat of the magnificent White-tailed Eagle and Golden Eagle. The picturesque Isle of Mull is a perfect location to hop scotch, to embark on a spiritual and historical pilgrimage to the Isle of Iona, and a wonderful wildlife spotting boat trip to Staffa island with Staffa Trips.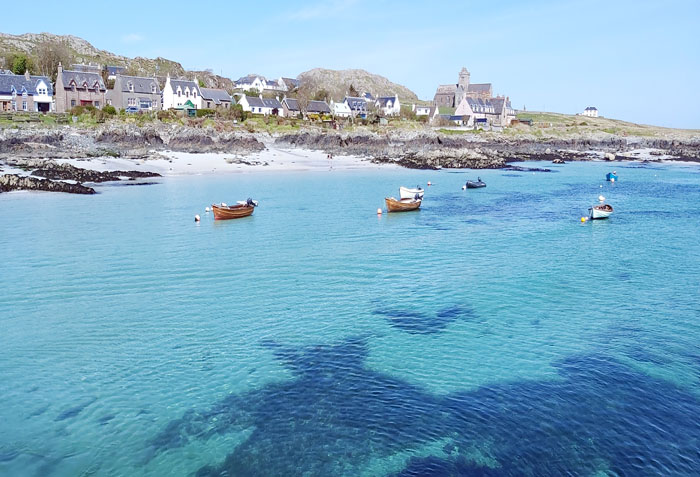 Mull, Iona and Staffa Tour Highlights
Day 1: Loch Lomond, Luss, The Drovers Inn, Falls of Falloch, Glencoe, Castle Stalker Viewpoint, Oban
Day 2: Oban to Mull Ferry, Calgary Bay, Tobermory, Duart Castle, Fionnphort 
Day 3: Isle of Staffa Boat Trip, Isle of Iona, Iona Abbey
Day 4: Mull to Oban Ferry, St Conan Kirk, Kilchurn Castle photo opportunity, Inveraray, The Rest and Be Thankful Viewpoint, The Firkin Point on Loch Lomond, Glasgow
Tour Style: Private Tour (Flexible and can be extended with additional days at the time of booking)
Your 4 day Itinerary to Mull, Staffa and Iona from Glasgow
Day 1 – Glasgow to Oban
Departing from your accommodation in Glasgow, we head north to visit the quaint conservation village of Luss, on the bonny banks of Loch Lomond. We can enjoy a short stroll through the beautifully restored reddish stone cottages, to Luss pier offering views of the magnificent Ben Lomond, the most southerly of the Scottish Munros, at 974 metres high.
Continuing north through the scenic Trossachs National Park, we make a stop at the reputedly haunted Drovers Inn, (established 1705), for a light refreshment. 
Just a few minutes' drive from The Drovers, finds us at the fabulous Falls of Falloch, also known as Rob Roy's Bathtub.  
Our journey continues through the Scottish Highlands, to the Great Moor of Rannoch, and onto the spectacular and dramatic mountainous Glencoe. Stopping off for photographs at the road-facing 3 peaked mountains, famously known as the Three Sisters (Aonach Dubh, Beinn Fhada and Gearr Aonach), we learn about the tragic Massacre of Glencoe.
Leaving the atmospheric Glencoe behind, we travel southwards through Bonnie Argyle, stopping briefly for photo opportunities at Castle Stalker, and on to the sea side town of Oban, also referred to as the Gateway to the Isles.
Day 2 – Oban to the Isle of Mull
Embarking on an early morning sail, we journey from Oban on the mainland to Craignure, on the Isle of Mull. Travelling northwards, with extensive views of the Sound of Mull, we head to the islands 'capital' town of Tobermory. 
The picturesque town of Tobermory is aligned with pretty pastel coloured houses, which featured in the childrens' television programme 'Balamory'. The town boasts its own malt whisky distillery offering excellent whisky and gin tastings, as well as informative guided tours. 
After lunch, our journey takes us on a scenic tour to visit Calgary Bay, in the north of Mull. Its name in Gaelic is Cala Ghearraidh, meaning 'beach of the meadow'. The city of Calgary, formerly known as Fort Calgary, in Alberta, Canada was named after Calgary Castle in Mull.
Mid-afternoon, we take the winding road south to visit the mighty Duart Castle. This cliff-top fortress has been the seat of Clan Maclean, for over 700 years. In 1692, Duart Castle and Clan Maclean fell foul to the ambitious Campbells, where the castle was surrendered and left to ruin. More recently the castle has been restored and welcomes visitors and members from Clan Maclean from all around the world.
After visiting Duart Castle, we then travel south to the charming village of Fionnphort, for our first night of two overnight stays.
Day 3 – Boat trip from Mull to the Isle of Staffa and Iona
After breakfast, we take the short walk to the harbour to embark on a five star rated Staffa Trips voyage to the Isle of Staffa. The boat trip lasts approximately 3 hours, with one hour on Staffa. You will have time to visit the world famous Fingal's Cave, named after the legendary Fionn McCool. If you visit from late April to late June, you have an excellent chance of viewing Puffins, that come ashore to mate, and rear their young. 
On our return, we sail to the idyllic Isle of Iona, an enduring symbol of Christianity. As many thousands before us, we make the pilgrimage to this sacred island, where St Columba and his 12 companions set up a monastery around AD 563.
Iona offers wonderful walks, white sandy beaches, delightful eateries, gift shops, the fascinating heritage centre, and of course the Historic Scotland Iona Abbey and Nunnery to visit.
Late afternoon, we take the short ferry sailing from Iona back to Fionnphort, for our final evening on Mull.
Day 4 – Isle of Mull to Glasgow
Leaving the village of Fionnphort, we drive north to the ferry port at Craignure, where we set sail for Oban on the mainland. Our journey continues through the Pass of Brander, with a short visit to St Conan's Kirk on the banks of Loch Awe. 
St Conan's Kirk was designed and built by Walter Douglas Campbell to save his dear mother travelling over 6 miles to the nearest church. The Kirk boasts magnificent architecture, and a memorial chapel to Robert the Bruce, who defeated the MacDougalls in a battle within sight of this location in 1308.
With a photo stop opportunity of Kilchurn Castle on Loch Awe, we continue through to the idyllic, historical town of Inveraray on Loch Fyne. On our journey back to Glasgow, we will have time to take a short break at The Rest and Be Thankful viewpoint, between Glencoe and Glen Kinglass. 
Leaving the Arrochar Alps behind, we head south with time for a wee stop at Fiorkin Point at Loch Lomond before concluding our 4 day tour in Glasgow.